How to Identify Your Registrar
How to Identify Your Registrar
---
Last modified: July 12, 2022
Overview
A domain registrar manages the reservation of domain names. When you purchase a domain name through a registrar, they allow you to perform the following administrative actions:
Manage the contact information on the registration entry.

Some registrars offer anonymous registration services.

Manage the nameservers that your domain uses.

Manage DNSSEC, which is a security feature for domains.
This document will explain how to identify your domain's registrar.
Identify your registrar
To identify your registrar, perform the following steps:
In your web browser, navigate to InterNIC's website.

Enter your domain name in the text box.

Select Domain.

Click Submit. A new page will appear that contains information about your domain at the registrar.

The Registrar URL line contains your registrar's home page.
For example, the following image contains the registration information for the cpanel.net domain: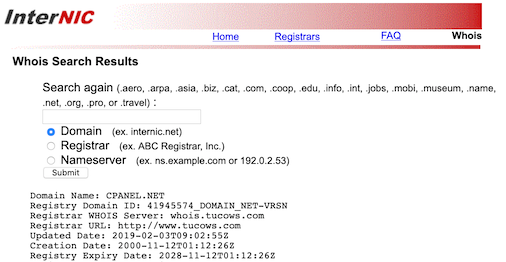 The registrar for cpanel.net is Tucows, and their website is http://www.tucows.com/
Additional information
If you do not remember your account or password, use your registrar's account and password recovery options.

If the registrar says that you used one of their registrar resellers, check your billing records to find that company's website.

If the search results return an anonymous or hidden entry, it will still return the name and URL of the registrar.

Some hosting providers also provide domain registration services in their hosting packages. Ask your hosting provider for assistance.