The Manage2 Dashboard
The Manage2 Dashboard
---
Last modified: March 23, 2021
Overview
Manage2's Dashboard interface provides you with access to features that allow you to manage your cPanel & WHM licenses.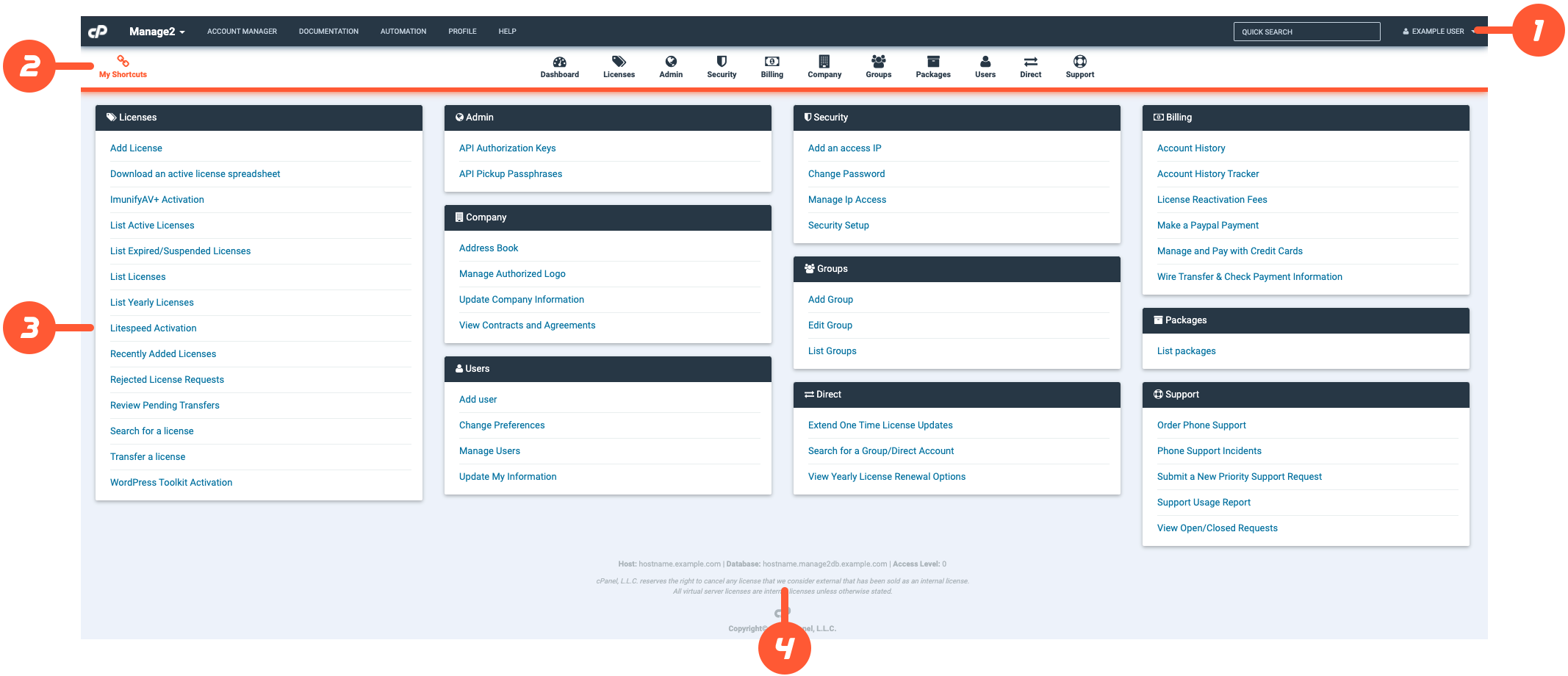 The Manage2 Dashboard consists of the following sections:
Note:
The features that appear in your Manage2 Dashboard interface correspond with your account's administrator level:
Higher numbers correlate with greater access privileges and more available features. You can locate your administrator level in the Manage2 Dashboard interface's Server information section.
This value defaults to 0 for your primary account and defaults to -10 for all additional accounts.
For information about Manage2 administrator levels, read our Manage Users documentation.
The application toolbar
The application toolbar is at the top of the Manage2 Dashboard interface. This toolbar contains the following menu selections:
The cPanel logo () — Returns you to the Manage2 Dashboard interface.
Manage2 — Displays the navigation menu for Manage2.
Account Manager — Displays the account manager's name and contact information.
Documentation — Displays a menu of cPanel & WHM documentation resources.
Automation — Displays the cPanel License Management API SDK and the API Guide document links.
Profile — Displays a menu of user profile options.
Help — Directs you to the cPanel, L.L.C. contact details and information page.
User menu — Displays the Open Tickets, Change Password, and Logout links.
The module toolbar
In the module toolbar, the Dashboard interface displays the available Manage2 feature modules. Selecting a module opens a menu of the module's available Manage2 features.
The My Shortcuts feature provides a menu of user-defined links to Manage2 interfaces. You can customize the features that appear in this menu in Manage2's Change Preferences interface (Manage2 » Dashboard » Users » Change Preferences).
Features
Manage2's Dashboard interface displays your account's available features in groups, by functionality. For information about a specific feature, read our Manage2 documentation.
Note:
The Announcement and Notices modules appear when your account has an update, such as server notices, past-due balances, and account suspensions.
If you see any account notifications, make certain to check your Account History interface (Manage2 » Dashboard » Billing » Account History) for more information and account balance details.
Server information
The server information is located at the bottom of the Manage2 Dashboard interface. This section displays the following information: